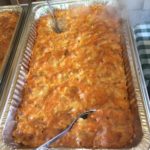 Bubba's 4-Cheese Smoked Mac 'n' Cheese:
Bubba uses elbow macaroni mixed with Cream Cheese, Sharp Cheddar, Parmesan and Gouda Cheese for real cheesy concoction. The macaroni is prepared then finished by smoking in the smoker for 2 hours or more. You may request to "Kick-it-Up-a Notch" by having Bubba add some Pepper Jack Cheese to the mix; this will deliver that extra-spicy bite you barbecue lovers out there may crave.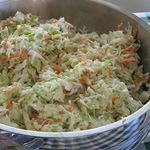 Creamy Slaw:
A traditional Southern style slaw. Shredded cabbage is seasoned and dressed with a sweet mayonnaise concoction to provide a smooth creamy texture.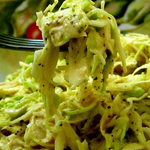 Tennessee-Style Mustard Slaw:
This is an old Tennessee BBQ'er favorite. Not just mayonnaise, mustard and celery seed is added for a more robust flavor with added depth and complexity.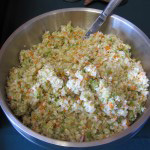 Carolina Slaw:
No mayonnaise here! Cabbage, onion, carrot & bell pepper are finely chopped, then seasoned and dressed with a Carolina vinegar sauce to give it a sweet and tangy flavor.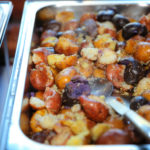 Smoked Smashed Potatoes:
A medley of potatoes lightly oiled and salted, then smoked for several hours until very tender on the inside. Finished off by smashing and blending the potatoes with a bit of milk and butter for added creamy texture and some mouth-watering goodness!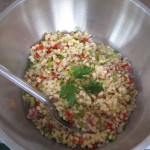 Mom's Best Corn Relish:
Petite sweet corn, soaked in a tasty oil and vinegar bath. An old southern favorite!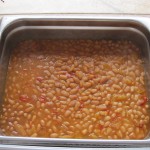 Georgia Peach Baked Beans:
Bubba's favorite recipe. White beans are seasoned with brown sugar, maple syrup and peaches, then baked in the smoker for 4 hours.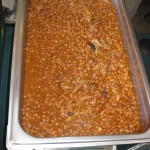 BBQ Baked Beans:
A traditional southern style pot of baked beans. Tender beans that are seasoned with BBQ sauce, brown sugar, molasses and mixed with some of Bubba's pulled pork for a hearty serving side.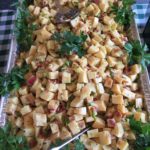 Sweet Potato Salad:
Only in the South will find this kind of dish. Diced sweet potatoes, onions, celery, bell pepper and herbs dressed with a sweet vinegar sauce. Can be served warm or cold. Bubba likes it cold the best!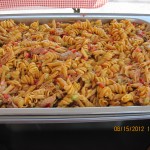 Bubba's Own BBQ Pasta Salad:
Mayo and Bubba's BBQ Sauce based Rotelle/Penne pasta with his own Pulled Pork mix.
Granny's Collard Greens:
A staple in every "Meat-N-Three" Dinner throughout the South. Collard greens are simmered gently with salt, pepper, onions and ham-hocks. I bet every house in Tennessee has a Granny that claims bragging rights to the best pot of greens.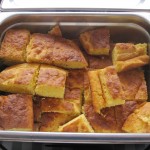 Skillet Cornbread:
Sweet cornbread baked right in an old, well-seasoned cast iron skillet. This is real cornbread with a crust on the bottom and moist inside. Do not mistake this with cake-like cornbread baked in a pan, as there's absolutely no comparison! Yum, yum!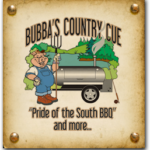 Smoked Cabbage:
A Texas favorite! A whole head a cabbage, cored and filled with BBQ rub and butter mixture. Wrapped in aluminum foil, the top is left open and placed in the smoker so that it may be smoked to a buttery tenderness.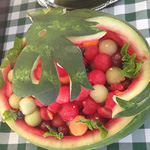 Summer Melon Salad:
Melody of melons diced or balled before mixing in a bowl with chopped mint leaf and a sweet citrus dressing. Upon special request, Bubba will carve a uniquely-shaped watermelon bowl to serve the melon salad, which may also double as a decorative centerpiece for your table.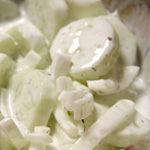 Sour Cream Cucumber & Onion Salad:
In the kitchens of the deep south, you will find this refreshing summertime side dish to help "beat the heat".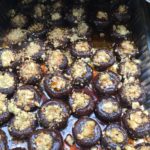 Marinated Mushrooms:
A great vegetarian choice which can serve for a protein dish or as an appetizer. These treats can be made with a variety of mushrooms; however, large button and Portabella  mushrooms are the most popular. The mushrooms are marinated in a balsamic vinegar, oil, and herbed mixture and can be with a tasty gorgonzola cheese if desired before smoking in the pit for 2 hours or more.